News
29 August 2016
Steel production is gaining momentum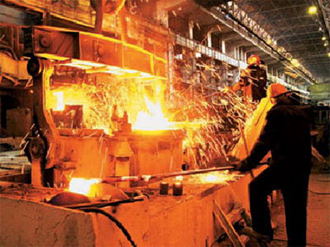 The World Steel Association released data on 66 countries providing statistics to the Association. In accordance with them for July 2016 steel production amounted to 131.9 million tons. On average, 4.31 million tons were melted daily. Since February 2016 this indicator is minimal. However, compared with July 2015, growth is 1.4%. On average, capacity utilization on a global scale was 68.3% in July. Relative to June, the index is 1.1 percentage points. Less, but it corresponds to the result of July 2015. The seven-month global volume of steel produced amounted to 929.6 million tons. The metallurgical industry has not yet reached last year's results. The lag, however, fell to 1.2%, while in the first half the indicator reached 1.8%. Steel production in July outside of China exceeded the result of the same period last year. The indicator is not too large, only 0.2%, but on the global scale this growth is noticeable.
Metallurgists of China last month produced 66.8 million tons of steel. On average, the daily volume fell by 7% compared to June. At the same time, the absolute indicator is 2.6% higher than the July result of 2015. Over a seven-month period, the volume of output was 466.5 million tons. This indicator is lower than the result of the same period last year by 0.5%.
July's smelting of Indian producers amounted to 8.08 million tons of metal. Compared to the results of the previous year, the growth was 8.1%. Taking into account this jump, the seven-month indicators improved by 4.8% compared to the same period of 2015. In numerical terms, growth almost reached 2.54 million tons.
Good progress is demonstrated by Turkish companies. The volume of smelting in July is 2.5 million tons of steel. The result exceeds the July 2015 indicators by 6.5%. From January to July, the output of metal was 19.15 million tons. Compared with the seven-month last year period, an improvement of 3.6% was noted. The main factor that influenced the increase in volumes was the increased use of scrap metal. This year, the mini-factories in Turkey do not actively use the purchased stock.
Russia in July 2016 smelted steel by 0.9% more than in July 2015. The volume of production for seven months compared to last year decreased by 0.8%. The seven-month volume of smelted steel was about 41.4 million tons. Ukrainian producers overcome the June crisis. In July steel smelting exceeded 2 million tons. From January to July, 14.48 million tons of metal were produced. Relative to 2015, the result decreased by 10.3%.
View all news
Our consultant will save your time!

Vitaliy
sales department
+38 (095) 209-60-73