News
14 August 2016
Uralelectromed makes replacement of equipment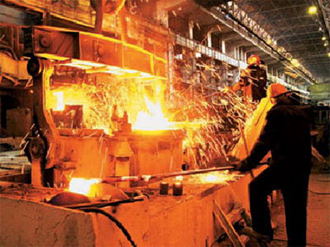 Uralelectromed continues to replace equipment. The line reached the tower crane in the hot- dip galvanizing shop. Instead of it, a gantry crane was installed. Its carrying capacity is 12.5 tons. Preference is given to the new technology, given the increased loading and unloading zone. During the replacement, the transport territory increased three and a half times. Andrei Myslyaev, the shop manager, highlighted the advantages of replacement. The new crane will allow to reduce the period of unloading of galvanized and unloaded galvanized products. At the same time, productivity will increase, staff work will become easier.
The territorial division of "black" and galvanized products is supposed. It is planned to divert individual sectors for customers. Such changes will allow to rationalize the placement of products. Will be eliminated unnecessary transport. Also, time costs will be reduced, the re-sorting will be eliminated. It is planned to install an information stand. It will depict the layout of the warehouse, the direction of movement is indicated. It will also be necessary to designate loading and unloading areas for vehicles. The stand will be located near the transport area of ​​the workshop. To date, the crane is located on rails. The installation of the cabin was made. The freight trolley and the hook suspension are assembled. Work is in progress regarding grounding. Anticorrosive protection of the crane is made. During August, the crane is supposed to be put into operation. At the same time, the dismantling of the old tower crane starts.
At the Chelyabinsk zinc plant things are not so good. From July 1 to July 28, the Commission of the Urals Administration of Rostekhnadzor planned to visit the enterprise, which was reported by the press release of the ministry. During the check, more than 50 violations were detected. The problems arose with the information characterizing the production facility. In them, gas regulating stations and gas pipelines were not introduced and previously not identified. The project documentation for pointed out the dangerous locations of workers near the units with metallurgical melts. Problems with the instruction for crane operators are revealed. This list is far from complete. In accordance with the verification, the Commission made an act, a warrant was issued. The perpetrators were brought to administrative responsibility in accordance with the Code of Administrative Offenses of the Russian Federation.
View all news
Our consultant will save your time!

Nicholas
sales department
+38 (050) 369-66-30