News
17 August 2016
In India, the demand for steel is declining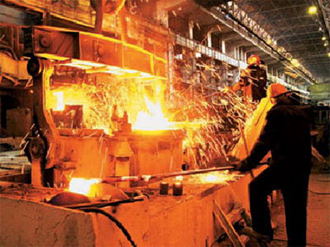 Demand for steel products in India continues to decline. In July, there was a continued decrease in steel consumption. As of June, the fall was over 7%. Indicators reached about 6.3 million tons. In June, however, demand for the same period last year fell by 4.3%, reaching 6.8 million tonnes. If you compare the results with the May data, the demand decreased by 8%. However, all is not so bad if we consider the consumption of finished steel products in general. Demand, albeit slightly, but increased, the increase was 0.5% compared to 2015. The period from April to July of the financial year 2016-2017 was considered. In a numerical expression, the volume of consumed products was 26.2 million tons.
During the four-month period of the current financial year, the production of crude steel reached 31.8 million tons. This figure is 5% higher than the results of the same period last year. The output of products in July this year reached 8.1 million tons. Relative to July 2015, the indicator increased by 5.6%. Compared to June 2016, the improvement was 0.1%. In general, the volume of rolled metal reached 2.4 million tons for the period from April to July 2016. Relative to the same period last year, the indicator shows a decrease of 34%.
The volume of imported products fell by 46% last month. The comparison was made with the same period of 2015. Concerning June 2016, the result worsened by 11.4%. The volume of exports for April-July relative to the same period last year increased by 8.7%. In terms of numbers, exports reached 1.7 million tons. It looks like India plans to outrun Japan. If it succeeds, then Indian metallurgists will take the second place in the development of steel by December 2016. This was reported by the head of the National Institute of Metals, located in Delhi. However, one intention is not enough. To implement it, it will be necessary to implement certain projects. In particular, Greenfield or Brownfield. They will help the country in developing a record 300 million tons of products.
To date, in India, steel used in the strategic industry is imported for almost all special products. It implies defense production and, accordingly, naval vessels, nuclear reactors. Also in the list are space vehicles ISRO.

View all news
Our consultant will save your time!

Nicholas
sales department
+38 (050) 369-66-30