News
5 September 2016
"Kazakhmys" will expand production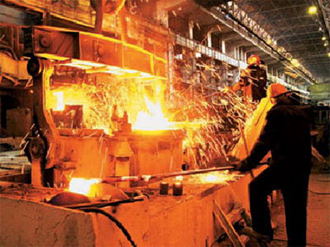 Kazakhmys Corporation will continue expanding its production. In 2016, about 115 billion tenge will be allocated to build up production capacities. These funds will be allocated for the construction of two mines located in the Zhezkazgan region. A new mine is also planned to be commissioned. It is located in the Karaganda region. Financing will affect the Kostanay region.
Bakhtiyar Krykpyshev said that the corporation plans to increase investments. He is the chairman of the board. According to him, last year investments in the expansion of production amounted to about 45 billion tenge. However, the amount in 2016 for the same purposes will be significantly higher. The chairman pointed out the facilities in which the funds will be invested. These are the mines "Zhomart", "Sary-Oba", located in Zhezkazgan region on "Zhaman-Aybat". The launch of Kusmurin is planned, this field is located in the Kostanay region. Investments will be directed to the mine located in the Karaganda region at the Abyz field.
The funds are planned to be invested not in one mine. Investments will be made in increasing the volume of processing of raw materials. The money will be sent to the concentrating factories of the corporation in the Karaganda region. The processing volumes at the Nurkazgan Ore Mining and Processing Plant will increase to 4 million tons per year. The previous indicator was 3.3 million tons / year. At the Kargaile factory, volumes will increase to the level of 2 million tons / year. Before that, the amount of raw materials processed was 1.6 million tons per year. The increase in production volumes is planned until 2017.
Kazakhmys production indicators are also increasing. In the first half of 2016, the corporation produced 111.6 thousand tons of cathode copper . Compared to the first half of the year 2915, the indicator increased by 8%, which is 8.3 thousand tons. The processing plants of Kazakhmys for the six-month period of this year processed 14.8 million tons of raw materials. The average content of copper in it reached 0.94%. This figure is 4% higher than the previously planned average copper content. Compared with the same period last year, the result improved by 0.88%. Presumably in 2016, the corporation will manage to produce 224,400 tons of cathode copper . Compared to 2015, the figure will increase by 3,6 thousand tons.
View all news
Our consultant will save your time!

Nicholas
sales department
+38 (050) 369-66-30