News
16 September 2016
On Electrozinc started routine repairs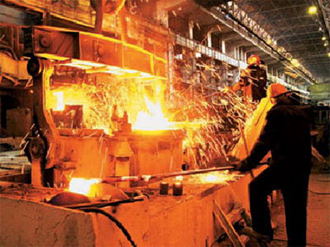 At the Electrozinc plant, which is part of the UMMC, scheduled repairs are carried out. In connection with this, a sulfuric acid, calcining, electrolyte, hydrometallurgical shop was stopped. Weltz-shop reduced the percentage of output, the output of wels-oxides will be 30% of the available capacity. The situation was highlighted by the plant's chief engineer Dmitry Binder. As he said, all services of the enterprise have worked competently. The shops were stopped in accordance with the previously established regulations.
Technological equipment began to be stopped step by step from the hydrometallurgical shop. Then the work was transferred to the kiln department. In it, the furnaces of the fluidized bed were stopped and left to cool. Their main purpose is firing concentrates. In the electrolysis shop, the cathodic zinc stripping procedure was completely stopped. Electrolysis baths were switched off in series, alternately. Also, cathodes were extracted with zinc sediments . Contractors and guilds began repair work after stopping and subsequent cooling of equipment.
Most of the work will be carried out in the sulphate and calcination shop. These include the installation of evaporative cooling. Also, the bottom of the KS-4 stove will be installed. In the plans, the replacement of the trunks of the sump compartment. A heat exchanger 10 will be replaced. A lot of work will be done on electric wet filters. Preliminary will be recorded for each individual electrostatic precipitator. Further, an individual action plan is drawn up regarding disassembly, cleaning, and adjustment of filters. The total schedule of stop repair covers more than 1000 types of work. After the completion of the repair work, the installation of new equipment will begin. Integration will be carried out in the technological chain of zinc production. In the sulfuric acid shop will establish the objects of capital construction. The list includes a drying tower, washing towers (two pieces). To date, this equipment is fully ready for commissioning and testing.
Measures to prepare for the repair work were completed in late August. Preparatory procedures began in May. Before that, an appropriate order was issued. During the preparation, the required documentation was developed. It included the preparation of estimates and applications for materials, operational schedules. Also, a tender was held to determine the contractor.
View all news
Our consultant will save your time!

Nicholas
sales department
+38 (050) 369-66-30