News
25 October 2016
Iran increases steel production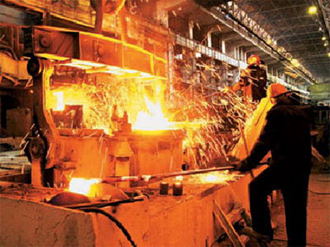 In Iran, Mohammad-Reza Nematzade, Minister of Industry, Trade and Mines, reported on the production plans for the metallurgical sector. When developing the ten-year plan, it was assumed that the production of steel in Iran should be 50 million tons per year. Simultaneously with these authorities, the countries are oriented to 20-year basic directions. They were adopted in 2005. According to them, the production of steel in the country should reach 55 million tons per year by 2025. The minister said that the aggregate capacity of steel production enterprises is 31 million tons per year. The growth of production indicators is observed against the background of the start-up of the metallurgical enterprise South Kaveh Steel Company. The factory is located in the province of Hormozgan.
Currently, there are nineteen projects in the metallurgical sector in the country. After their completion, pellet production will increase by 10 million tons per year. The production of sponge iron will increase by 5 million tons. The volume of liquid steel will increase by 3 million tons per year.
In early 2015, IMIDRO holding in Iran estimated the aggregate steel production capacity. The specialists of the metallurgical holding established that the volumes amounted to 2.4 million tons of the smelted steel. Production of rolled metal reached 34.1 million tons. Accordingly, growth over 19 months was over 30%. Over a three-year period, the Iranian metallurgical sector managed to implement 39 projects. They were focused on creating new production capacities.
The holding company of the state-owned company in Iran, Mostazafan Foundation, announced the completion of the next project. This is the metallurgical enterprise South Kaveh Steel. Its production capacity reaches 1.2 million tons of billet annually. The enterprise will be put into operation in the near future. The plant is located in the Persian Gulf near the port of Bandar Abbas. The previous project at the enterprise was implemented in 2012. Then, modules for the production of reduced iron were put into operation. Their capacity was 1.86 million tons / year. Now the electric arc furnace, desalination plant, foundry complex was added to the modules. Prior to the project, the company exported sponge iron for export. It was supplied to the East Asian countries and to the Persian Gulf. However, now the company intends to focus on external deliveries of semi-finished products.
View all news
Our consultant will save your time!

Alexander
sales department
+38 (063) 073-44-92