News
16 October 2016
Kola MMC is carrying out another modernization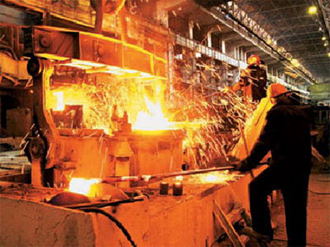 The Kola company, which is part of Norilsk Nickel, has started the modernization of the refining shop. In accordance with the plan, the next technological process will be built. It provides for the cleaning of the shop dust from lead . This modernization is a section of a large-scale program. It is aimed at introducing more efficient and less expensive technology. This implies nickel electroextraction, the total cost of the project is 18 billion RUB. The implementation of the project will reduce the impact on the surrounding world. Operational costs will also be reduced, and the quality of the products will be improved. Modernization is carried out within the framework of the new Norilsk Nickel strategy. Reconfiguration of the production process will make the Kola Mining and Metallurgical Company a refining center.
Electroextraction of nickel will lead to an anode arc furnace from the production chain of the Kola company. Removing this redistribution of GMK will change the distribution of lead microimpurities. Their presence in the metal reduces the quality of the products. To date, lead is removed from the circuit through an electro-melting process. After the launch of the new project, the channel will be liquidated. It is necessary to prevent the accumulation of lead in the process chain. The solution of the problem lies in its extraction from the dusts of the fluidized bed. In order to be able to clean dust from lead impurities, the company purchased special equipment. His work is based on water leaching technologies. The equipment is planned to be installed in the refining shop, in the dust collection zone. Now the department is dismantling the used electrostatic precipitators. Reducing the volume of lead falling into the electrolysis shop with nickel raw materials will make it possible to produce high-grade nickel electrolyte.
Meanwhile, Norilsk Nickel signed an agreement on a syndicated loan. It has the form of an approved reserve revolving credit line. Its size is 500 million USD. Validity period - five years. The organizers of the transaction are international banks. The list includes UniCredit Bank, Sumitomo Mitsui Banking Corporation, Commerzbank, Mizuho Bank, HSBC Bank. UniCredit Bank, the London branch, is appointed agent of the line. The new line is another step towards changing confirmed loans on the Russian, Asian, and Western financial markets.
View all news
Our consultant will save your time!

Nicholas
sales department
+38 (050) 369-66-30