News
20 November 2016
Iran conquers the mineral market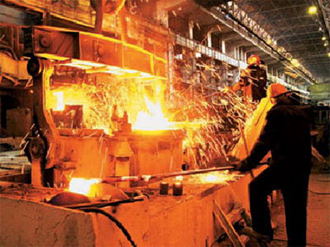 Recently, Iran's steel mills are "raising their heads" and are moving more and more boldly to the world stage.
Thus, according to statistical data, there is a significant increase in the supply of steel, copper and iron ore. According to the organization for the development and reconstruction of the mining industry, Iran exported 29.6 million tons of ore. In monetary terms, this volume of output is equivalent to 3.89 billion dollars. Compared to the previous year, the increase in physical terms amounted to 21%. The monetary equivalent of the increase was 15%.
The products of the steel industry formed the basis for the export of the state in monetary terms. For the current year, Iran has exported nearly four million tons of steel. What brought the Iranian companies a total of 1.63 billion dollars. The figures grew by more than half in tonnage and 10% in value.
In second place is the export of copper and products from it. Iran sold abroad half a million tons of products worth 511.4 million dollars. Here, the percentage of growth is expressed in 351% and 355%, respectively. But, according to the head of the National Iranian Copper Industrial Campaign, this is not a part of the growth. In the next few years, Iran intends to raise copper exports to two billion dollars a year.
Iron ore became the third largest export volume. Ore sales abroad amounted to 9.9 million tons. Revenues amounted to 380 million dollars. In comparison with last year, the figures grew by 35% by weight and by 42% by money.
Due to the growth in the export of iron ore, it was decided to impose duties on exports of the unprocessed product. The beginning of the duties is scheduled for the end of March next year. The step is aimed at stimulating domestic production and increasing value added. While it is not known exactly what the amount of bets will be, their amount remains unknown.
Among other minerals, a significant increase in exports showed aluminum, zinc, chrome and lead.
Sixty eight kinds of minerals are extracted in Iran. According to experts, the explored reserves are thirty seven billion tons. The main reserve of deposits has not yet been explored and is fifty-seven billion tons. Hence, the mill has a significant potential for future export growth. In fact, this is a significant increase in export supplies for Iran for the first time in a long time.
View all news
Our consultant will save your time!

Alexey
sales department
+38 (093) 727-19-11