News
29 November 2016
In China, the new metal combine will notice ten old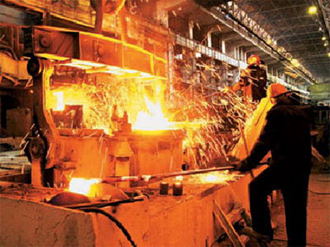 The Chinese government announced its intention to build a new metallurgical plant in the province of Hebei. The enterprise will have to replace ten operating enterprises located within the city limits. To do this, the province authorities will unite the enterprises that are functioning now. And they invest thirty-eight billion yuan, an average of 5.54 billion dollars. Unlike the factories in operation, the new Tangshan Bohai Stee enterprise will be located forty kilometers from the city.
According to estimates, the construction period of the new plant will take about four years. Power Tangshan Bohai Stee will be eight million tons per year. Whereas, ten functioning enterprises produce eleven and a half tons. The Chinese authorities intend, therefore, to resolve at once two serious problems. First, the new enterprise can significantly reduce the environmental burden on the city. Secondly, the new project can help in the implementation of the plan to reduce capacity. In case of successful completion of the project, three and a half thousand tons of capacity will be withdrawn from the turnover.
Over the past four years, there has already been a significant decline in production in Haibei. So, back in 2012, the total production in Tien Shan was one hundred thousand tons. The city has long acquired the status of the "metallurgical" capital of China. But the situation should change in the near future. Since, for the period from 2013 to 2017, the city authorities pledged to reduce forty percent of the capacity. According to statistics for October, the province has already reduced productivity by 36.86 million tons.
In recent years, the DPRK government has been encouraging all kinds of modernization in the metallurgical sector. Now, to replace the many small factories, large enterprises are coming. Regarding localization, the enterprises are built in places of more profitable logistics, mainly on the coast. This trend has been observed since 2008. At that time, Shougang closed its factory in the capital, opening a new one on the island in Bohai Bay. Such giants have grown, like Zhanjiang and Wuhan Steel, also succumbed to a new trend.
Wuhan Steel reported on the completed plan to reduce capacity. And not only this, but also the next year. The company reported that production was reduced by 3.19 million tons in pig iron ahead of schedule. Steel capacity decreased by 4.42 million tons. The company Baosteel also assumed additional obligations to close some enterprises.
View all news
Our consultant will save your time!

Vitaliy
sales department
+38 (095) 209-60-73