Brushed stainless sheets
Our consultant will save your time!

Vitaliy
sales department
+38 (095) 209-60-73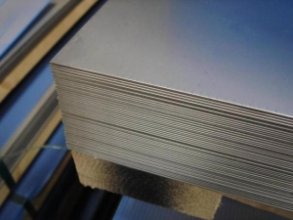 relevance
Dignity brushed stainless sheet is hard to overestimate. Due to their high technological and operating characteristics, appealing aesthetic surface, brushed stainless steel sheet occupies a leading position among similar materials. Chromium and Nickel, the total percentage of which in the composition of the stainless steel sheet can reach 45%, protect the surface from wet corrosion and corrosion cracking gives resistance to intergranular corrosion. Such a current sheet during installation of welded structures, the manufacture of chemical or food containers, pharmaceuticals, and agriculture in the design of the premises.
production
Manufacturing of thin sheet normalized GOST 5582−75 and 19904−74; thick — GOST 19903−74, 19904−74, 7350−77. The hot-rolled sheet thickness 2 — 50 mm, and cold rolled sheet of 0.4 — 5 mm Stainless steel sheet can be: brushed, polished (mirror), etched (decorative), oxidized, etc.
Precision of rolling:
· B — normal;
· A — high.
Flatness:
· Very high;
· PV — high;
· MON — normal.
The degree of traction:
· N — normal;
· G — deep.
Stainless steel hot rolled sheet has three degrees of surface quality and cold-rolled to four degrees of quality. Sheet steel is typically used domestic industrial sectors. Technology of final processing manufacturers create a more aesthetically attractive products. Brushed stainless sheets (2B) have a glossy surface, without a clear reflection, the degree of surface roughness Ra of 0.1−1 µm depending on the thickness of the sheet.
DIN
ASTM
EN

SURFACE

n (IIIc)
2B
2 B
Heat-treated, cold rolled, pickled
Frosted mirror
c2 (IIa)
1
1 D
Heat-treated, hot-rolled, pickled
M (IIId)
BA
2 R
Roasting in a vertical furnace, cold rolled, processing with solution of ammonia
Mirror
application
Foreign production matte stainless steel sheets relevant for the production of household appliances, finishes of railings, door or window openings, lifts, interior design. Domestic stainless steel brushed sheet of stainless steel, resistant to high temperatures, corrosion. He found the widest application in the manufacture of welded structures for machine-building, petrochemical, different equipment working in aggressive environment.
supply
Brushed stainless steel sheet thickness of 4 mm is supplied in rolls. The surface is rough or smooth frosted. The cold-rolled sheet thickness = 0,4−5 mm, hot-rolled — 2−50 mm.
BUY AT best PRICE
Brushed stainless steel sheet presents in stock, LLC «_" the full range of sizes that will satisfy any customer. Optimum price category and full compliance with the requirements of technical documentation will allow to provide the reliability and economic efficiency of production. Individual work with every customer regardless of the purchase price is our motto since the founding of the company.