Stainless steel rod
Our consultant will save your time!

Vitaliy
sales department
+38 (095) 209-60-73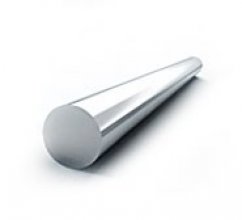 relevance
Due to the high technological and operating characteristics, stainless steel wire is widely used by engineering, thermal engineering, industrial chemistry etc. industries where the production process involves high temperatures I. aggressive environments. Thanks to such materials of new generation, the opportunity to improve technological processes of production and to ensure long term reliable operation of the whole complex of equipment. Stainless steel wire has significant resistance, so it can be operated in the widest range of temperatures. Unique properties due to the balanced chemical composition and special processing technology.
12Х1810Т
Stainless steel wire 12X18H10T is one of the most popular. It has the reliable, durable, has excellent corrosion resistance. In the composition of the alloy consists of 12KH18N10T chromium, titanium and Nickel. Thanks to the durability, strength, scope of such rod is very large. Having a long life, he found his place in the chemical industry, machine building, metallurgy, manufacturing, commercial and food processing equipment.
06Х28мдТ
Rod 6ХН28МДТ most demanded in chemical equipment, working in an acid environment. For example, in sulfuric acid and in petrochemical production and columns synthesis.
10X17H13M2T
This rod is characterized by durability, resistance to any aggressive environments, abrasion, heat and corrosion resistance. Used for the manufacture of austenitic steel, alloyed with chromium, titanium, Nickel and molybdenum. Stainless steel rod this brand have easy weldability, does not require preheat and final heat treatment. It has found its application in chemical and food industry, medicine, petrochemical industry, metallurgy, etc. while Maintaining their quality for a long time, this rod can withstand temperatures up to 600 °C.
12Х23Н18
It is a high alloy austenitic stainless steel rod, has a special resistance and heat resistance (up to 1100°C). This kind of semi-finished products used for the manufacture of parts of boilers, combustors, steam generators and fragments of heat-exchanging fittings.
20Х23Н18В
High anti-corrosion properties provided the stainless steel rods of this brand find use in most industries, particularly in food, chemical and transport. Stainless steel 20H23N18 IN does not change the chemical composition of potable running water. Resistance to atmospheric and soil moisture, aesthetic appeal, allowed the use of this stainless steel rod in the domestic sphere, building and architecture.
buy at best price
To see more details with the products, specify its basic properties, checkout you will be able with the help of our website www.vmc.com.ua/. The company «Minicalculator» offers an unlimited range of metal, in particular, a wide range of stainless steel rod. High quality of products and lack of intermediaries determine the most favorable conditions for acquisition of rolled metal products for current production tasks. Delivery in the shortest possible time in any region of the country and abroad, compliance with regulatory documentation already gained the trust of regular customers.