News
30 July 2017
Uralelectromed installed one faucet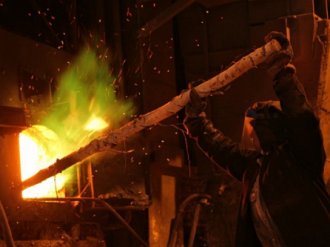 Copper plant Uralelectromed has got one more tap. New loading equipment was made in the city of Naberezhnye Chelny. The purpose of the crane — loading scrap in the anode furnace. The mixture represents a waste of non-ferrous metals and rough copper. The cost of the equipment is about 20 million RUB. This amount includes and installation of equipment. As reported by the foreman, the construction of a new technology unique. The crane was custom-made Uralelectromed.
Crane lifting capacity up to three tons. It is equipped with a powerful arrow, to which the smelters gave the name «trunk.» Thanks to this device, the crane can load the anode furnace for two hours. The crane device includes a housing boom, equipped with a mechanism of pushing, the driver's cab. Control is done through the five gears. They are used for turning columns of the crane, for the movement of bridges, both forward and backward, left and right. Also, the gearboxes help in the lifting boom, the pushing of the cargo. From the axis of rotation boom length is 8.5 meters. This size provides efficient loading of the charge in the anode furnace. Around its own axis crane can be rotated 220 degrees.
There are analogues of this technology, but they have some differences. In particular, the new crane is equipped with a closed cabin. It has air conditioning, oven to increase the temperature in the winter. This approach significantly improves the conditions of the driver. Today was completed the pilot test. After this, the crane was put into operation. The installation of another crane with the same cabin planned for the second half. Interestingly, in 1934 the copper-smelting workshop was provided by the German Demag cranes. In the 70 years they were replaced by domestic appliances the Siberian plant.
View all news
Our consultant will save your time!

Nicholas
sales department
+38 (050) 369-66-30