News
15 August 2017
Gaisky GOK is engaged in the expansion of processing plant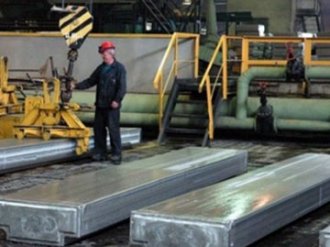 Gaisky GOK is engaged in the construction of the loading unit of raw material, equipped with a receiving hopper. It is being built at the concentrator, for the ore pretreatment complex. Today in the warehouse of raw materials processing factory operated five boot nodes. The construction of the sixth, the last node will be the completion of the storage operations. They are part of a program to expand the factory. A feeding unit includes the receiving hopper, plate feeder. The latter are responsible for the uniform supply of raw material on the conveyor. This is followed by further processing.
It is the site of loading and the initial stage of ore processing. Its construction will help to reduce downtime of trucks in the unloading of raw materials. For the detention of oversized lumps of rocks a hopper covered with a metal grating of a special design. The size of its cells are 350x350 mm. Oversized pieces that will remain on the grid will break up hammer, they will be equipped with a hopper. Start of object in operation is planned for the end of the third quarter of 2017. To date, concentrator processes 24 hours about 29−30 thousand tons of raw materials.
Another ongoing project Gaisky GOK is the construction of a new weight complex. His task is the determination of the weight of the finished product, which will be sent to the consumer by road. The collection will be made from stock concentrate of copper and zinc. The estimated cost of construction and installation works will reach about 6.3 million rubles. For today is the construction of the Foundation of electronic scales. After completion of construction work on the plant will begin installation of the weighing platform. Maximum capacity reaches 100 tons. To control the operation of the complex will be the weigher.
View all news
Our consultant will save your time!

Nicholas
sales department
+38 (050) 369-66-30