Sheet, ribbon
Our consultant will save your time!

Nicholas
sales department
+38 (050) 369-66-30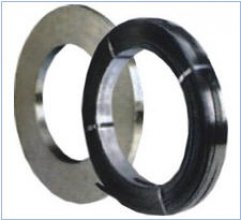 general characteristics
The accessory of the brand ХН77ТЮР to the group of chromium-nickel materials allows to use it for manufacturing parts operating under the most severe conditions. The percentage of nickel in the alloy can vary from 70 to 77.4 percent, and the proportion of chromium is 19−22 percent. To increase the operating parameters, the material is doped with additives of silicon, aluminum, titanium, cerium and some others. Due to the optimal technological and operational parameters, such material copes with the hardest work and actively opposes the influence of most harmful industrial factors, ensuring the reliability and durability of the operation of important equipment.
COMPOSITION
Percent composition according to GOST 5632−72
Alloy
FROM
Mn
Fe
P
S
Ni
AT
Cr
Al
Cе
Ti
Si
Pb
Impurities
ХН77ТЮР
≤0.07
≤0,4
≤1
≤0.015
≤0.07
70--77,4
≤0.01
19−22
0.6−1
≤0,02
2.4−2.8
≤0.6
≤0.001
≤0.015
Chromium-nickel tape of brand ХН77ТЮР differs with a whole complex of high performance characteristics, due to the perfectly balanced composition.
TECHNOLOGICAL PARAMETERS
Mechanical properties
Name of the characteristic
Symbol
Numeric value
tape
Limit of proportionality (yield index for deformation of residual type), MPa
ST
620
Short-term strength (limit value), MPa
Sv
950
Relative elongation at break,%
D5
20
Value of relative narrowing,%
Y
15
Hardness after hardening (Brinell method), MPa
255−321
Physical properties
Name of the characteristic
The numerical value of the parameter
The coefficient of linear expansion, measured at tº 100ºC (ах10 6), 1 / deg
12.67
Heat capacity (I), W / (mxgrade)
13.9
Density, g / cm 3
8.18
Ud. Electrical resistance ®, Ohmmm 2 / m
1.247
Nickel in the composition of the tape ХН77ТЮР provides a sufficiently high plasticity of semi-finished products, which facilitates its processing and installation. This tape has a high resistance to corrosion and considerable heat resistance, which makes it possible to use it in operation at elevated temperatures and presence of an aggressive medium.
Application of
The blades of gas turbine engines, fasteners designed for use at operating temperature, up to 750ºC are manufactured from the tape ХН77ТЮР. The tape ХН77ТЮР is used at manufacturing of cars, for manufacture of elements of the raised durability intended for work at vibration and the maximum loading. Given the high rate of hygiene of raw materials it is widely used in the manufacture of surgical instruments. A high specific resistivity makes it possible to use the alloy in the production of heating and measuring devices. In addition to the industrial sphere, a durable and beautiful alloy has proven itself in everyday life. Original decorative ornaments and beautiful metal tableware have long become an attribute of our daily life.
Buy at the best price
Acceptable cost of the tape ХН77ТЮР and a wide range of products will allow any buyer to choose the option that most fully satisfies any requests. High quality of manufacturing and full conformity of production to requirements of the state standard documentation and technical conditions for delivery — that basic criterion which our company adheres in work with clients. Precisely adjusted chemical composition and manufacturing technology ensure high quality and reliability of the products, and reasonable prices and convenient delivery method is an additional advantage in working with us.