ХН45Ю
Our consultant will save your time!

Nicholas
sales department
+38 (050) 369-66-30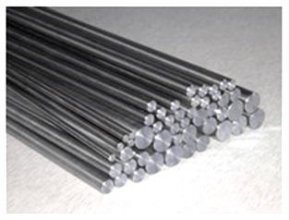 Basic qualities
Doping of chromium-nickel steel KhN45Yu with aluminum, manganese and silicon increases resistance to contact with an aggressive medium. When heated, these substances form strong oxidic protective films on the surface. The main advantage of wire, circle, bar of brand ХН45Ю is considered resistance at high temperatures in aggressive gas environments. The main performance characteristics of these materials are fully determined by the chemical composition, and the duration of operation depends on the operating conditions of the particular part (level and load patterns). Most often wire, circle, rod ХН45Ю is used in thermal installations. High heat resistance directly depends on the structure of the substance and strong bonds in the alloy between the atoms.
The percentage composition of XH45YU, GOST 5632 — - 72.
Al
Ni
Cr
Mn
Fe
Si
Si
P
Wa
S
Ce


2.9−3.9
44−46
14−16
≤1
31−38
≤1
≤015
≤0,02
≤0,1
≤0.012
≤0,03
APPLICATION
The circle and wire of the brand ХН45Ю is used in the production of conveyor kiln grids, slat furnace rolls for high-speed ceramic firing. They are designed for continuous operation at t ° up to 1300 ° C. They are used in the design of steam and gas turbines, in nuclear power plants, for jet engines and ICE as a structural material.
BUY AT THE BEST PRICE
A huge choice in the stock of OOO «_" products from precision materials, including the alloy of the brand KhN45YU, allows you to take into account the wishes of any customer. Convenient delivery and constant attention to the customer will make the purchase from us as comfortable as possible, and compliance of all semi-finished products with high quality standards will be a guarantee Reliable operation of such products on any sites of the industrial complex. The diverse assortment of the circle and wire brand HN45Yu in our warehouse will allow us to easily select the necessary option to realize l Any engineering intentions.